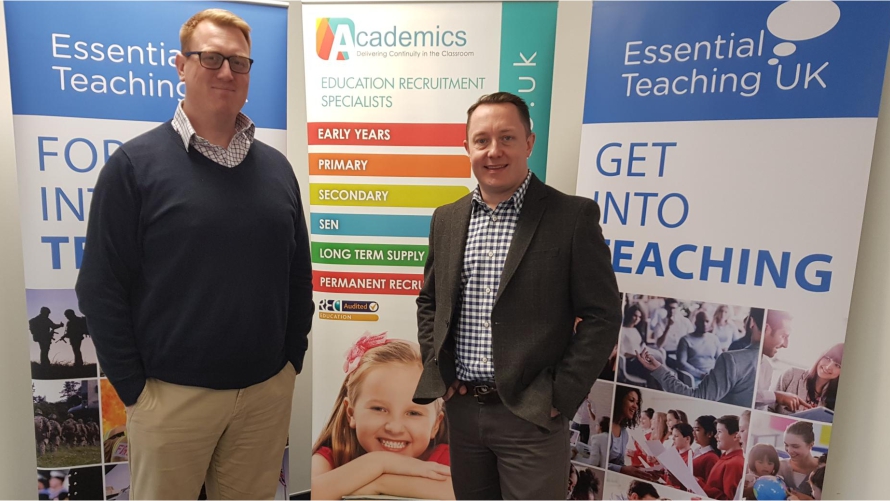 Academics relocated to Pure Offices, Port Solent in December 2017 and Essential Teaching UK during May 2018.
Gavin from Essential Teaching UK and Steve from Academics have this to say …  "Essential Teaching UK doesn't just deliver Initial Teacher Training, and Academics isn't just a Teacher Recruitment Agency. Instead, we have established ourselves as 'Delivering continuity in the Classroom' – in particular, ensuring inspirational teachers deliver learning within our Schools & Colleges, using their creativity, personality and passion every single day. These shared values make us a perfect pairing for working together within Pure Offices.
Working within Pure Offices has given both companies the ability to explore a mutual ethos, culture and develop opportunities to expose courses or services to a brand new audience. To make the partnership work, Essential Teaching UK equips unqualified teachers with the skills and attributes to progress into teaching. At the same time, Academics uses its experience and reputation to place and support teachers into employment."
Collaboration is a powerful business tool for companies, regardless of their size or industry. It assists in addressing problems and achieve goals that may seem to be out of reach when working alone. So why not contact us to discuss taking on an office at Pure Offices Port Solent where you would be surrounded by up to 70 other small to medium sized organisations offering services from IT, design, software development, facilities, marketing, media, training, recruitment etc.
Go on, take the leap … it could be worth the positive impact the move may have on your business growth!
Contact Julie Webber on 02392 986449 or email portsmouth@pureoffices.co.uk to book a viewing or to discuss your office requirements further.